and I'm feeling crappy!


Actually, I've been feeling crappy since before Thanksgiving. I've had a horrid, wheezing cough and hideous sinus congestion. I'm on various types of drugs, so I hope I'm getting better. We'll see.


But feeling like ass hasn't curbed the craftiness. In an effort to fulfill one of my plans for 2006, I have been sewing up a storm. Let me tell you, baby clothes are great for cleaning out the stash. Because they only take from 1/2 - 1 yard of fabric, they are perfect outlets for those remnants of great cotton prints that I've been hanging on to. And they are so small, I can finish them in 1 night. Baby Maggie will be a little clothes horse if I have my way. So here is what I've done this week (no pictures of my stuff yet because I have no camera -- but maybe I'll bring them to SnB and ask Ellen to
take a photo for me):


I did the first one in a black & white wavy strip
e cotton (left over from a bag lining). The second I'm doing in very cute Day at the Zoo print. I also did a romper onesie in a white, brown & blue hippy paisley print. They are fun to do and encourage me to further pare down my fabric stash!

I've also completed the HotPatterns Nairobi bag for myself (same pattern that I used to make the Christmas present purses for Melissa & Carrie). I did Mel & Carrie's in contrasting ultrasuede (Mel's in red & gray and Carrie's in purple & gray), but I decided to try mine in leather & dark denim. I wasn't completely happy with how the zipper turned out on their purses, so I just did a toggle for mine, and I think it turned out better. And I learned my
lesson, and did NOT use charmeuse for the lining again (that stuff slips and slides and never lays straight).

I haven't neglected my knitting, either (although I haven't crocheted much lately). I'm still plugging away on Richard's Baseball sweater. I finished the back and rather than cast on for the front, I decided to break it up by doing one of the sleeves first. And guess what? Cables are totally easy. They look intimidating, but they aren't.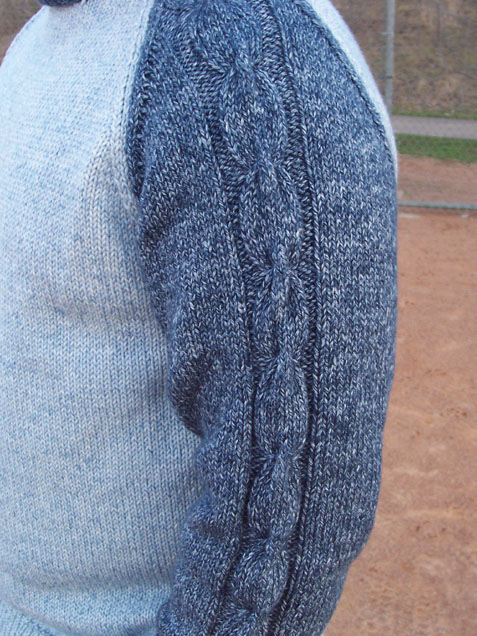 I'm so proud of my mad knitting skills!